Spanish football champion to advocate for Millennium Development Goals
Geneva, 24 January 2011



The United Nations Development Programme (UNDP) appointed the World Cup-winning Spanish football goalkeeper Iker Casillas as a Goodwill Ambassador for the Millennium Development Goals (MDGs). In this role, he will focus on issues affecting young people in developing countries, promoting poverty reduction, education and health.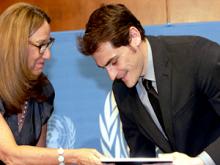 "We are thrilled to have Iker Casillas working with us to help countries reach the MDGs and defeat poverty," said UNDP Associate Administrator Rebeca Grynspan after presenting Casillas with his credentials. "Iker is not only a role model for young people across the globe, but also a very committed partner in the need to raise awareness and create real opportunities to improve the lives of the most vulnerable."

Casillas is no stranger to the tremendous needs of the poor in this world, and has shown on many occasions that he can be part of the solutions. Twice now, he and tennis champion Rafael Nadal have organized 'Friends of Iker v Friends of Rafa' sports events to raise money for those suffering from malaria in Mali and last December he organized with Luis Figo a football charity match in support of homeless people. He has also worked in Peru to raise awareness of the needs of children living in poverty.

"While my job on the pitch is to prevent goals, my job at UNDP will be to help score them," said Casillas. "Bringing attention to the poor conditions people are enduring around the world is essential to motivate action on the world's pledges to improve their lives."

The MDGs are a set of eight globally agreed targets that seek to halve world poverty by 2015 by combating hunger, disease, illiteracy, environment degradation and discrimination against women. UNDP works in 166 countries around the world to create, realize and monitor each one's own MDG-based national development plans.

"UNDP works with people and their governments around the world to end povertywith solutions that will last," Casillas said. "Only with that kind of team approach can we win the battle against poverty, and I am proud to add my personal commitment to this work."

Casillas plays for the Spanish La Liga club Real Madrid and serves as captain for both the Spanish national team and Real Madrid. As captain of the national side, he led a young Spanish team to their first European Championship in 44 years, his first senior international honour. In 2010, he led Spain to their first ever FIFA World Cup and won the Golden Glove for the tournament's best goalkeeper.

Casillas is joining eight other UNDP Goodwill Ambassadors: four footballers, Ronaldo de Lima, Zinedine Zidane, Didier Drogba and the world's number one female football player, Marta Vieira da Silva; tennis player Maria Sharapova; Spanish performer Antonio Banderas; Japanese actress Misako Konno; and HRH Haakon Crown Prince of Norway.