HEALTH AND SOCIAL PROTECTION, in detail:


| | | |
| --- | --- | --- |
| | | |
| | | Income poverty and unemployment in rich and poor countries often leave people without access to medical care. Moreover, insufficient education and lack of access to information make it difficult for millions of people throughout the world to understand how to prevent and cure diseases or take care of dental health. Mortality due to pregnancy and childbirth can be up to 18 times higher in some developing countries than in the safest industrialised country. Illness – be it respiratory problems, malaria or AIDS – renders people less productive and often places an extraordinary burden on families. |
Because they lack the resources, the institutions of developing countries are not in a position to either stop the progress of HIV-AIDS or cope with its social and economic consequences. In some countries an important fringe of the economically active population is currently being decimated, and this has dramatic consequences for the development process. Expensive medicines are only within the reach of a small minority. Moreover, because of the lack of knowledge about AIDS, infected people also have to suffer discrimination; they are rejected and marginalised by those around them, and this exacerbates their poverty.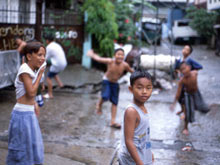 Malnutrition in rich and poor countries, responsible for many health problems, affects the ability of children to benefit from school teaching and diminishes the productive capacities of people at work. In some countries lack of access to safe drinking water and sanitation creates health hazards. Moreover, inadequate health infrastructures and widespread poverty constitute strong disincentives for trained medical personnel. Discouragement due to poor working conditions and the lure of higher salaries elsewhere attract many doctors to the north.


Literacy programmes, school enrolment, education in health care and nutrition, free immunization campaigns, universal provision of water and sanitation are key elements in reducing health deprivations. In addition, governments, whether national or local, can provide free basic health services as well as subsidise health care. Individual and community-based solidarity can also help people through difficult times.

Massive information and awareness campaigns are at present the best means of effectively combating the spread of the AIDS virus. In addition, the medical, health and governmental institutions should be reinforced and made accessible to all sick people, with no discrimination. Women and children (particularly orphans) should be protected as a priority. Men need to be better informed about their role in transmitting the virus. Governments must put the fight against AIDS at the heart of their development plans and strategies and take the necessary steps to make medicines available to all. Private companies and laboratories can help by dropping the price of medicines to levels within the reach of poor people. In general, every area of society – the private sector, the governments of rich countries, the non-governmental organizations and multilateral institutions – must do what it can to gather the necessary financial resources and mobilise public opinion to combat AIDS.

Ultimately, income generation combined with appropriate government policy ought to solve health and nutrition problems by putting an end to chronic poverty.