More than 33,000 football fans demonstrated their support for the people of Pakistan and Haiti on December 14th by filling the Karaiskakis Stadium in Piraeus, Greece, to watch top players reach a 2-2 draw in the eighth Match Against Poverty.

Retired Portuguese star Sá Pinto scored both goals for Zidane and Ronaldo's side. Olympiacos responded to both with scores by 22-year-old Kontantinos Mitroglou.

As in previous years, the United Nations Development Programme (UNDP) and two of its goodwill ambassadors, Zinédine Zidane and Ronaldo, organized the match in support of the Millennium Development Goals which seek to reduce poverty and improve livelihoods worldwide by the year 2015.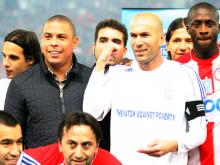 "It is important that we reach out in solidarity with those affected by extreme poverty," said Zidane at a press conference preceding the match. "We cannot allow the people of Haiti and Pakistan to suffer in silence. Through this match we hope to let the world know we're in this together."

"It really inspires me to see that despite the economic crisis in Greece the people of this great country still come together in solidarity with the poor of the world," added Ronaldo. "I'm really impressed that the stadium is sold out tonight."


This year, the host football club, Olympiacos, invited more than 50 players from teams across the world to compete in the star-studded match broadcast live in more than 30 countries.

UNDP Communications Director Stéphane Dujarric said that sports can be a powerful tool for bringing a positive impact to millions of people. "Through sport we can bring people together to focus on a common goal - a world without poverty where everyone on the planet can live with dignity."


Olympiacos owner Evangelos Marinakis said his team will donate its share to Argo, the Navy Union for parents of children with special needs, as well as to homeless and disadvantaged communities in Piraeus.

"Although our country is mired in economic uncertainty and we have been living in difficult times, all of us are working together to build a vision of hope for our children. This is the vision and values of Olympiacos and the reason we decided to host this game," said Marinakis.




This year's match is channeling half of the funds raised into efforts to help recovery for the more than 20 million people affected by the earthquake that hit Haiti in January and the floods that devastated Pakistan from July.