Fifth Match Against Poverty in Málaga, Spain


Nearly 30,000 football fans came to watch Zinedine Zidane and Ronaldo play in the fifth Match Against Poverty as part of their work for the United Nations Development Programme.

The game took place in Malaga on Monday, 19 November. For the fifth time Zidane, Real Madrid star and former captain of the French World Cup team, and Ronaldo, the Brazilian striker, organized the event as Goodwill Ambassadors for UNDP.

The Match brought together the "Friends of Zidane" on the one hand and the "Friends of Ronaldo" on the other. It ended in a 2-2 draw. It was Ronaldo's first match of the season, having injured his thigh during Milan's training camp.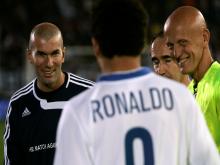 Ronaldo, who left Madrid in January, took his best chance in the opening half when he managed a shot from close range, saved by Peter Jehle who knocked the ball away. Zidane scored two goals, one with a free kick.

"I'm very happy. The fans have been fantastic," Ronaldo said after being replaced by Almeria's Alvaro Negredo in the 30th minute. "We're famous people. Fans follow us and listen to us. So we need to use this for a good cause."

The match served as a reminder that everyone is responsible for helping achieve the UN's Millennium Development Goals (MDGs), which adopted by the world's leaders in 2000.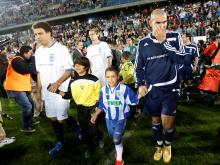 The MDGs seek to halve poverty by 2015 by setting goals to reduce hunger, illiteracy, disease, environmental degradation and discrimination against women.

The 30,000 spectators paid between 10 and 25 Euros for their tickets. As in previous years, the proceeds will benefit anti-poverty projects in Eastern Europe, Asia, Africa and Latin America. An estimated 500, 000 US dollars have been raised through this edition.

The match was transmitted live by 25 Television channels around the world and covered by 265 accredited journalists.


Spanish Minister of Infrastructure Magdalena Alvarez Arza, Secretary General of AECI (Agencia Española de cooperación internacional), Juan Pablo de Laiglesia; Francisco de la Torre, Mayor of Malaga; and Cécile Molinier, Director of the UNDP Office in Geneva, were the high-ranking officials who greeted the players and made the match kick-off.