Sixth Match Against Poverty in Fès, Morocco


About 20,000 spectators were on hand to watch the sixth Match Against Poverty in Fès, Morocco, where the "Friends of Ronaldo" defeated the "Friends of Zinédine Zidane," 6-5.

Ronaldo et Zidane, both UNDP Goodwill Ambassadors, again assumed the role of captain for their respective teams, which were composed of 45 notable international football players – including Brazilian striker Marta, the best female football player in the world and the first woman to play in the Match Against Poverty.

"To be here in North Africa is extremely special for me because of my [Algerian] origin," Zidane said before the match.

"This occasion permits us to promote positive messages, which is very important for us," Ronaldo added.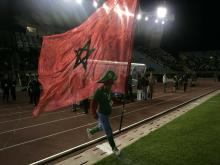 The primary objective of the event was to mobilize the public in the fight against poverty and to promote the Millennium Development Goals (MDGs), which seek to halve world poverty by 2015. The match in Fès was the first in a series of eight games, each promoting one of the eight goals.

Between 2008 and 2015, the target date for accomplishing the MDGs, the proceeds from each game will go to projects which address the goal highlighted. In Fès, the theme was centered on the first Goal: to eradicate extreme poverty and hunger. The funds will be allocated to UNDP anti poverty projects around the world, including a national project in Morocco.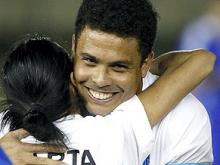 The Match Against Poverty was covered by 250 journalists and broadcast live in more than 20 countries.

Rosters:

Friends of Ronaldo: Codina; Sousa, Al Jaber, Sun Jihai, Miguel Torres; Pere Marti, Ivan Leko, Angel; Arango, Ronaldo y Makukula. Also played: Marta, Naybet, Mane, Tarik, Dida, El Zhar, Callejón, Daniel Chávez, Trejo, Caca and David Bustamante.




Friends of Zidane: Coupet; Lauren, Kaboul, Louissi, Pernía; Sergio, Valerón, Zidane, Etxeberría; Weligton y Quero. Also played: Lauren, Celestini, Zairi, Daoudi, Nejjary, Kabous, Karembeu, Coco, Bourderbala, Chippo and Ouaddou.