Seventh Match Against Poverty in Lisbon, Portugal


| | | |
| --- | --- | --- |
| | | |
| | | The Match Against Poverty, organized by Benfica Club, Benfica Foundation and UNDP, was held in Lisbon on January 25th. Over 50,000 spectators were on hand to watch the "Friends of Ronaldo and Zidane" tie with the "Benfica All Stars team" – three all. Sixty international football players hailing from teams across the world competed in the two star-studded teams. Before the kick-off, participants observed one minute of silence in remembrance of the victims of the devastating earthquake that stroke Haiti on January 12. |
Before the kick-off, participants observed one minute of silence in remembrance of the victims of the devastating earthquake that stroke Haiti on January 12.The Match also focused attention on the Millennium Development Goals (MDGs), adopted in 2000, which seek to halve world poverty by 2015.

"Every time we get together for this match we can help and make a difference," United Nations Development Programme (UNDP) Goodwill Ambassador Zinedine Zidane said. ". We can't stress enough the importance of mobilizing people for the recovery of the disaster that just occurred in Haiti and for the ongoing projects we have with UNDP."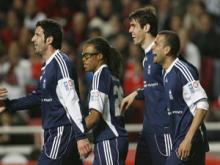 "I think Haiti needs everybody's support now, said Kaka, who was invited by his good friend Ronaldo, UNDP Goodwill Ambassador, to represent him in the match. "Around the world there a lot of problems, but the most urgent problem now is Haiti – and because of that I am very happy to be part of this game tonight and to represent Ronaldo here."

The match was refereed by Italian legendary Pierluigi Collina.




| | | |
| --- | --- | --- |
| | | |
| | | The players, brought together through the efforts of UNDP Goodwill Ambassador's Ronaldo and Zinedine Zidane, included two rising Haitian players from the Portuguese Football Clubs, Jean Sony and Joseph Peterson, representing their recently devastated nation. The Brazilian midfielder Kaká (Real Madrid) represented Ronaldo who, unfortunately, was unable to attend the Match as he started, on 24 January, the Brazilian football season with his Club Corinthians. Other football stars participating in the match included Pavel Nedved (Czech Republic), Michael Laudrup (Denmark), Thierry Henry Fabien Barthez and Christophe Dugarry (France), Edgar Davids and Phillip Cocu (Netherlands), Luis Figo, Fernando Couto, and Pauleta, Rui Costa, Nuno Gomez (Portugal), Gheorghe Hagi and Gheorghe Popescu (Romania), Lucas Radebe (South Africa) and Fernando Hierro (Spain). |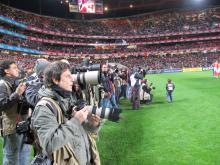 Benfica Club and UNDP announced that proceeds from the Match Against Poverty equivalent to US$ 767,000 dollars (€557.780) will be transferred to the UNDP's cash-for-work programme in Haiti. The programme is putting thousands of Haitian men and women back to work, helping restart life in their own communities. The announcement was made after the tallying up of all proceeds from ticket sales, broadcast rights, sponsors and direct donations.