World's top-ranked women's football player and Brazilian national, Marta as a Goodwill Ambassador, to advocate for women's empowerment as a means to fight poverty
Stockholm / New York / Geneva, 11 October 2010



The United Nations Development Programme appointed the Brazilian football player Marta Vieira da Silva as a Goodwill Ambassador for the fight against poverty. At a ceremony in Stockholm, Vieira da Silva, known to her fans simply as Marta, said she will promote international efforts to achieve the Millennium Development Goals with a special emphasis on the empowerment of women.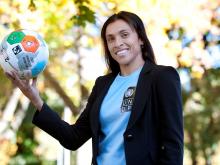 "UNDP works around the world making a positive difference in people's lives, and I am proud to add my personal commitment to its work," she said.

The MDGs are a set of eight globally-agreed targets that seek to halve world poverty by 2015 by combating hunger, disease, illiteracy, environment degradation and discrimination against women.

"UNDP is very proud to welcome Marta as our Goodwill Ambassador," said UNDP Administrator Helen Clark. "Marta is a role model for women and girls around the world, and I have no doubt that just as she has inspired them to play football, so will she inspire others to come together in achievement of the Millennium Development Goals. I am happy to welcome her to our team."

Marta received her credentials as Goodwill Ambassador from the Director of the UNDP Nordic office, Jakob Simonsen. Former Swedish Minister for Foreign Affairs Jan Eliasson, a recently nominated advocate for the MDGs, also directly welcomed Marta to her new tasks.

"I don't forget my origins," said 24-year old Marta, who is one of four siblings raised by their mother in a poor neighbourhood of a town in the Brazilian state of Alagoas. "I have been given opportunities to succeed in life, but I constantly think about the ones who did not have this chance. We all need to contribute to help defeat poverty." Marta is known in Brazil for giving back to her hometown by donating money and sports supplies.

Marta won the FIFA Women's World Player of the Year four years in a row, from 200 ed the top scorer for 2004, 2005, 2006 and 2008. She also won the award for best forward position in 2007 and 2008.

She currently plays with the United States football club FC Gold Pride and has led the club to a championship title. She scored 19 goals in 24 games during this regular season and was the top scorer of the league.

In 2007, fellow football players Ronaldo and Zinedine Zidane invited Marta to play in UNDP's Match Against Poverty in Fez, Morocco, where she became the first woman in the history of football to play in an internationally-sanctioned men's football match.

Marta joins an elite group of UNDP Goodwill Ambassadors, which includes soccer stars Ronaldo, Zidane and Didier Drogba, Japanese actress Misako Konno, Crown Prince Haakon Magnus of Norway, Russian tennis star Maria Sharapova and Spanish actor Antonio Banderas.